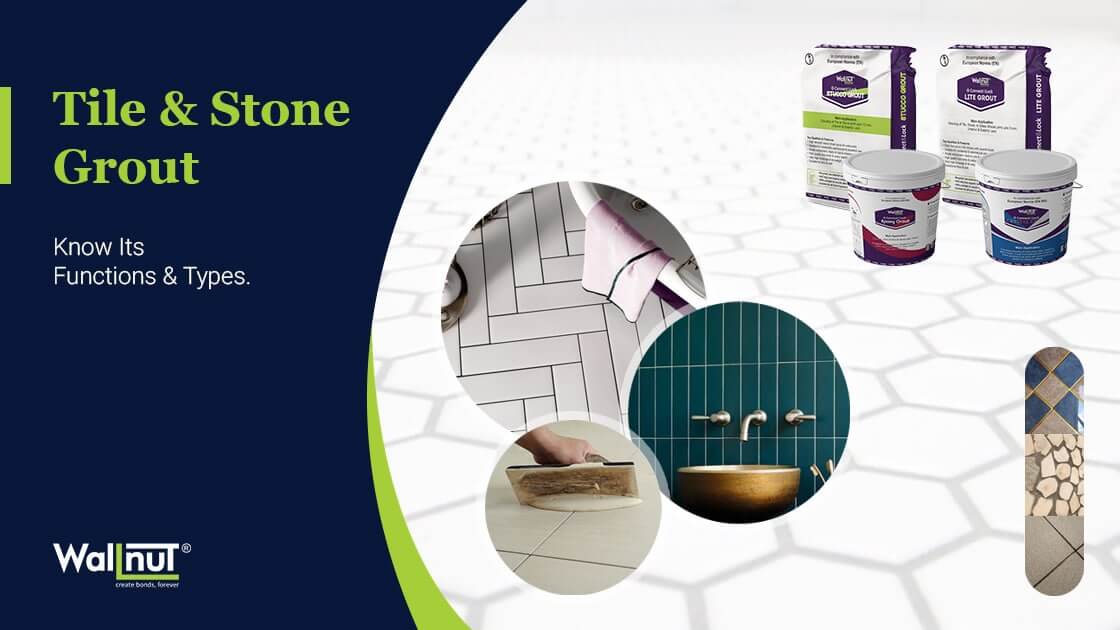 Tile and Stone Grout: Know Its Functions & Types
A grout is any gooey, packable material that can be utilized to fill the seams between your tiles & stones in your house, societies, and public infrastructure to make the seam between the tile or stones waterproof. It is a mixture of water, cement, sand, and is employed in pressure grouting. Grout is a dense fluid that is used to fill gaps into flooring and walls.
Grouts provide high-quality premium joints between tiles & stone with properties of superior gloss, color-locking, waterproof & stain resistance & very high strength for life long performance.
There are different types of tile and stone grout each serves different purposes based on the requirement once infrastructure requires.
Functions of a Tile and Stone Grout:
Tile and stone grout

fills the spaces in between the tiles and provides a finished look to your floor and walls.

You must have seen many houses have the flooring issues such as tile coming out, uneven flooring, and strain developed in many areas. Tile and stone grout makes the entire flooring even and keeps all the tile in a perfect position to have a seamless experience.

The major function of tile and stone grout is to stop water from getting into the slab below the tile if the water goes into the flooring it can disturb the entire floor and cost you a lot of money and effort to redo the entire flooring.

Many tile and stone grout are antibacterial & do not allow fungal growth by itself a lot of them are chemical & stain resistant which saves a lot of effort in cleaning the tiles.

Tile and stone grout works as a waterproofing agent for your floors.

Tile and stone grout comes in vast varieties of shade and colors also you can use


glitter

powder and mix them with tile grout to make your abode a perfect dream come true moment.

Cement-based grouts:
Cementitious grouts come with the main component that is cement, add-on particles of various sizes, a water-retentive additive, and colored pigments to match once requirement as per the area they tend to apply additionally, grout is thin so it flows readily into gaps. Cementitious grouts are the traditional grouting material, mostly used in residential projects, public infrastructures, and other commercial establishments. This grout is mixed with water and applied with a trowel. Recommend to use professionals to prevent your precious tile and stones from stains.
The cement-based grout comes in two different categories: Sanded & Unsanded grout.
Sanded grout:  Sanded cementitious grouts includes large sand particles that can be seen and felt they feel rough. Sanded grout is most commonly used for ceramic tile, stone and any tile with a grout joint or larger. it is recommended to use this grout if the seams are 1/8 inch wide or more. This grout is gives very strong bonding and prevent crack to develop.
Bathroom floor
Kitchen floor
Shower pan
Entryway
Unsanded Grout: Unsanded grouts as the name suggest without the sand so they have a much smoother texture, the particle used in this grout comes in the form of fine powder so they have no noticeable grit. This type of grout is mostly used in ceramic tiles, Polished marble, and stones.
Shower wall
Bathroom wall
Polished or honed stone
Rectified tile
Epoxy Grout: Epoxy grout comes with very high compressive strength and durability. It is highly resistant to stains, cracks, chemicals, harsh weather conditions, and climate changes. Highly thixotropic in nature and does not sag from the joint up to 15 mm. or even more. Permanent locking of color between joints. Very low VOC. Smooth and shiny flush joints between tiles & stone. 
These features make epoxy grout the only way to go if you're looking for the most durable, efficient way to do tile work. The strength of epoxy grout makes it the most efficient solution for grouting work it can be used for almost any type of tile and stone. if you are looking for the most viable flooring solution to keep you away from redoing you tile and save a lot of money it's highly recommended. Epoxy Grout is consisting of high-quality special coated color quartz, eco-friendly resin & hardener. Grout doesn't allow water to go through and can be used for filling the tile & stone joints up to 15mm on the floor & on wall
Heavily trafficked areas like entryways, hallways, and foyers
Harsh conditions exposed to grease and acid, like restaurant kitchens
Kitchen counters and backsplashes
Any type of flooring you want to protect such as.
Bathroom floor
Kitchen floor
Shower pan
Entryway
Shower wall
Bathroom wall
Polished or honed stone
Rectified tile
Latex modified grout: This type of grout are usually prepared with an added component such as latex polymer additive and can be formulated with sanded grout. These additives are blends of acrylics and latex, which is good in terms of retaining the color, Improved strength, and more waterproof. Many companies produce these products in ready forms by mix the latex powder so you don't have to do much.
Polymer Tile Grout:
it's different from epoxy grout, polymer tile grout ensures color quality. Polymer
tile grout is cement-based with added polymers that are activated once they come in contact with water. The chemical reaction increases the grout's water, abrasion, and chemical resistance and adds an incredible amount of strength.
Polymer tile grout is a single component material that is completely stain proof. polymer-based grout is not recommended to be used with pebbles, Should not be used in submerged water or anywhere with high steam.
High-traffic residences
Commercial spaces
Kitchen counters and backsplashes
Entryways
Furan Grout :
Furan grout is the strongest and toughest as compare to other grout available in the market and has distinctive features. Furan mortar and grout is a two-part system (liquid resin and powder catalyst) for use where chemical resistance is important. When properly cured, Furan grout is resistant to most non-oxidizing acids, alkalis, solvents, oils, greases, salts, detergents, and steam cleaning. The use of Furan as a grout requires a waxed tile/brick surface and appropriate installation skills as Furan cannot be water washed off the surface during initial cleanup. Furan grout is an expensive and risky installation process so it's recommended to use only professional help as it can create health issues.