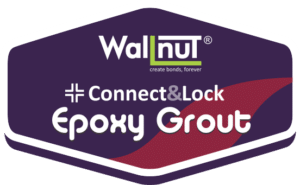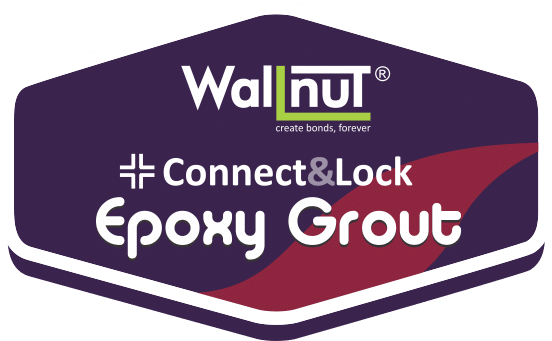 In compliance with EN norms – RG ( Reactive Grout)
Filling of tiles and stone joints upto 15 mm on floor and on wall.
Wallnut Connect & Lock Epoxy Grout is consist of high-quality color quartz, eco-friendly resin & hardener. The grout provides excellent high-quality joints between tiles & stone. The joints are chemical, stain & abrasion resistance. Connect & Lock Epoxy Grout does not allow water to go through and can be used for filling the tile & stone joints up to 15mm on the floor & on a wall.
Advantages of Epoxy grout
Permanent locking of colour between joint.
High quality UV stable colour quartz in 23 shade.
No stain on grout joints.
High chemical & stain resistant.
Hygiene, antibacterial & does not allow fungal growth by itself.
Almost waterproof by its nature. 
Very high compressive strength.
Smooth and shiny flush joints between tiles & stone. 
Easy to mix, apply and water cleanable at site.
Durable and long-lasting.
Highly thixotropic in nature and does not sag from the joint upto 15 mm. or even more.
Very low VOC and at par with international norms.
Post application no acid or special cleaner needed to clean the surface.
Technical Performances and working data
In compliance with EN 13888 for RG (Reactive grout) 
Compressive strength : > 50 MPa : as per EN 12808-3
Abrasion resistance : < 175 mm3 : as per EN 12808-2
Water absorption after 240 min. : < 0.04g : as per EN 12808-5
Porcelain tiles/concrete tensile strength : ≥ 3 MPa : as per EN 1348
(Using as adhesive)
Fungal contamination : NIL
Bacterial contamination : NIL
(Data @ 28 days test. 23° C & 50% humidity)