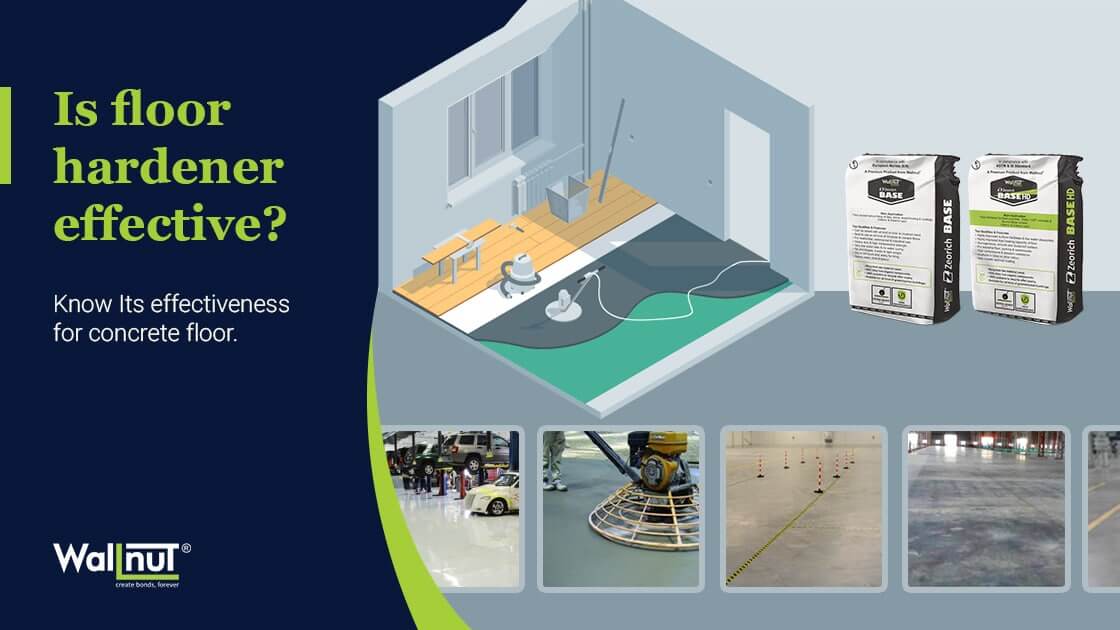 Many a time surface of a concrete floor is not hard enough for the type of use it is put too. The outcome is that it wears or dusts off quickly. It is conceivable to build the life of such floors by use of specific materials known as 'Floor hardener'.
Floor-hardeners is a blend of concrete, totals (quartz, carborundum or iron particles), and different added substances. They devour the rising water from the green solid, hydrates and gives a hard-wearing and thick surface.
Floor hardeners are high strength, shrinkage less, non-metallic, mineral base concrete floor hardener in powder form used for industrial & commercial floors to create heavy-duty floor surface which is resistant to high abrasion, impact, hardness and also improve the compressive strength of the final surface.
Floor hardeners are commonly utilized to solidify the upper framework of concrete solid surface, diminishing the pull of fluids into the surface pores and forestalling conceivable chemical assault. They are powerful if the floor is of acceptable quality, in spite of the fact that they have some of the time been utilized effectively on substandard quality solid surfaces as well.

Floor Hardener is particle form molecules made in specified size graded form with particular specification by mixing cement and gritstone chips and other added additive to give extra strength and life to the concrete floor

Specially sized graded molecules/particles increases the density of the concrete floor by covering the smallest gaps, thus it reduces the disintegration & dust off a concrete flooring.

Concrete is strong and tough, yet for some environment, these qualities are not enough as we all know concretes wears out over a period of time. The entire life of concrete depends on the maintenance part of how well we all keep maintaining it.
The floor hardener protects, preserve, and strengthen the life of concrete flooring by sealing and curing concrete structure. 
High traffic areas,

Factories, and warehouse

Establishments, where there are a heavy wheel and machine movement, has to be carried out, Heavy-duty industries, Society road, railway stations, Airports, Parking lots, etc.


Internal & external fresh floor made with fresh cement screed, PCC, or any other fresh

cement floor casting.

Floor made with fresh Tremix flooring.

Floor made with using Wallnut Zeorich Base fresh screed.

Industrial floors, factories.

Parking lots in commercial, industrial & residential areas.

Industrial Warehouses, yards, loading bays & workshops.

Public infrastructure floors such as railways platform, airports, stadium, etc.

Heavy industrial floor such as steel factories, power stations, etc.

Other areas of heavy use such as restaurants & museums etc.
Advantages of floor Hardener
High abrasion and impact resistance- Long service life

Very economical in comparison with other methods to improve the surface hardening and abrasion

Non rusting- Suitable for wet environments

Dense surface- Resists oil and grease penetration

The option of having color can create an aesthetically pleasing environment

Able to apply at higher ambient temperatures - Wide application range

The only dry shake of powder in the thickness of 2 to 6 mm. (in two coats) makes floor enough hard to be ready for heavy uses.

Improves the load-bearing capacity significantly of the base concrete floor.

Very heavy duty and provide compressive strength of > 40 Mpa on the top surface of the concrete.

Flexural strength of > 6.5 Mpa.

Homogeneous, smooth, and dustproof top surface of the concrete. Being non-metallic, no rusting on the top surface of concrete over the period.

Low water absorption and porosity compared to the traditional concrete surface.

Maintenance and cleaning of the floor become easy in the long run.

Low VOC and suitable for green building
Floor hardener gives 50% extra strength and life to the entire floor structure. Floor Hardener is an effective product to keep the concrete floor durable, longstanding. These products reduce maintenance costs significantly. It is recommended to engage the right contractors to make the best use of the products.