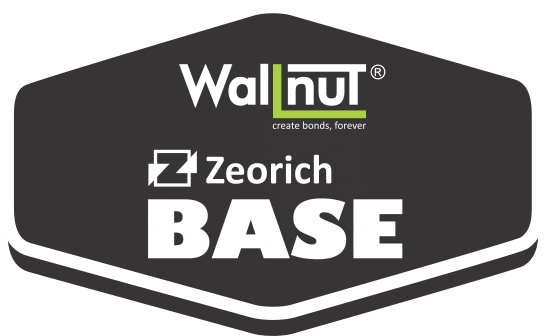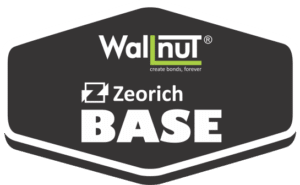 In Compliance with European Norms
Binder for Underlay Screed for tiles, stone & other covering
Zeorich Base(floor screed) is eco-friendly, lightweight, non-water curing, quick-drying, high strength, shrinkage-less, the mineral-based binder in powder form made from natural material to create a stable base of screed before fixing of any kind of tiles, stone or other coverings such as carpet, wooden flooring, coatings, etc.
Advantage of Zeorich Base over cement mortar or Floor Screed
 A Ready to use binder which replaces completely using of traditional cement.
 Floor Screed can be used with any kind of river sand or crushed sand.
 Heavy duty and compressive strength of >50 Mpa of binder.
 Dry within 24 hours with humidity under 3% and ready for fixing of any kind of tiles or stable stone on top.
Floor Screed can be used as fresh mortar to fix all kind of tiles and stable stone by using Wallnut Lite Floor slurry adhesive.
 Minimum thickness of 25 mm. till 80 mm. or more in a single go by adjusting sand size.
 No water curing requires.
 No moisture rising on the wall compared to traditional mortar and hence no peeling of paints. • Saving of time, labor & cost.
Floor Screed can be used for heavy traffic area such as the industrial floor, airport or in swimming pool & residential floor, etc.
 Lightweight compares to normal cement.
 Can be mixed with any kind of quality certified sand of 0 to 8 mm. size.
 Wallnut floor screed can be customized at the site for desire compressive strength as high as up to 35 Mpa.
Floor Screed can be used as an overlay by applying Zeorich Base HD on top.
 No shrinkage in base screed, once fully dry in a short period of 4 - 5 days.
Low VOC and suitable for green building.
Best usages as per the area:

Internal & external floor as an underlay.
Residential & commercial floors including parking.
Industrial floors.
Public infrastructures such as airports, railways, etc.
Fully wet areas including swimming pool, water tank, etc. as the underlay

Advantages of Zeorich Base
Guaranteed desire compressive strength as per mix design.
Design for base mortar or screed before fixing of Tiles / Stone or any other overlay.
Best suitable using as a dry screed on the floor to fix any kind of covering on top after 24 hours.
Compressive strength from 15N/mm2 till > 30N/mm2 as per the design mix for floor screed.
Suitable for external & internal areas as an underlay.
No shrinkages once fully dry.
No water curing required.
Best recommended to use along with Zeorich Basalt sand or any other kind of quality sand, sized from 0 to 8 mm.
Fully dry in 24 hours with moisture less than 3%
No need to mix any extra cement.
Economic as mortar for doing fresh tiling work with Wallnut Lite Floor slurry adhesive
Thickness as low as 25 mm. till 75 mm. More thickness can be applied by choosing mix-design.
Suitable covering material:
All kinds of ceramic & vitrified tiles with Wallnut suitable adhesive.
 All kinds of natural or recomposed stone with Wallnut suitable adhesive.
 All kinds of other coverage such as cement-based self-levelling, epoxy or PU coatings, wood flooring & carpet etc.
Ensure that the concrete surface is sound, strong, clean, and free from all foreign material such as oil, grease, dust, etc.
Before applying the products on extremely dry or hot surfaces, splash sufficient water to reduce the shock and surface temperature. Let it surface dry. In normal course too, splash the water to regulate the surface absorption.
For dispersing the movement & stresses caused by expansion between concrete walls & floor, use separator at all corners by using 5mm. thick and 4-inch-wide un-bonded polyethylene foam sheet or similar kind of material.
The expansion joint in concrete must be followed. In case a large area of tiling, movement joint in a base mortar must be designed at every 3-meter along-with tiling.
In the case of un-bonded mortar is required, first fix the 1 mm. thick polythene film on the concrete floor then spread the mortar in a thickness of 50 mm. or more and follow the tiling process.
Mix the Zeorich Base preferably along-with Zeorich Basalt sand as per the above-suggested ratio in a normal concrete mixer.
The water ratio normally is 40 to 50 % by weight of Zeorich base but can be adjusted as per the type of sand, weather, and humidity until semi-dry consistency is obtained.
 If screed thickness is less than 40 mm. or the floor is under heavy use, apply first the slurry bond coat prepared with Zeorich Base: Water in the ratio of 3:1 by volume.
If a slurry bond coat is applied, then spread the mortar onto the floor while still, the slurry is fresh.
Spread the mortar onto the prepared concrete floor in desire thickness, then compact and level.
Once proper levelling & compacting is done, especially for a large area, a lightweight power floater must be used to have smooth and levelled surface. For small areas, proper smoothening must be done by using a flat trowel.
Fix tiles or stable stone after 24 hours. In case moisture sensitive stone, wooden flooring, self-levelling, PU or Epoxy coating, use the screed after 4-5 days of full dry.
In case tiles or stone to be fixed immediately by wet on wet technique, it can be done by using Wallnut Lite Floor slurry adhesive over fresh Zeorich screed and tiles or stone must be fixed within 1 to 2 hours of screed application.
Technical performances and working data
Norms: In Compliance with EN 13892-2 for compressive strength
For Heavy Duty Screed : >/= 30 N / mm2 @ 28 days (Mixing Volume 1:4 : Zeorich Binder : Zeorich Basalt)
For Stone work Screed : >/= 22 N / mm2 @ 28 days (Mixing Volume 1: 6 Zeorich Binder : Zeorich Basalt)
For tiling Work Screed : >/= 15 N / mm2 @ 28 days (Mixing Volume 1:8 Zeorich Binder : Zeorich Basalt)
Coverage : From 1.5 Kg. M2 till 2.5 kg. M2 for each 10 mm. of thickness
Water ratio : 40% to 50% by weight of Zeorich Base OR more to prepare a semi-dry mix
Working Temperature : (Data@ 23℃. + 50% humidity)