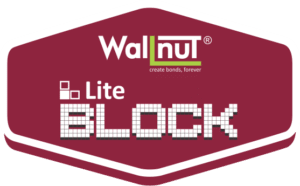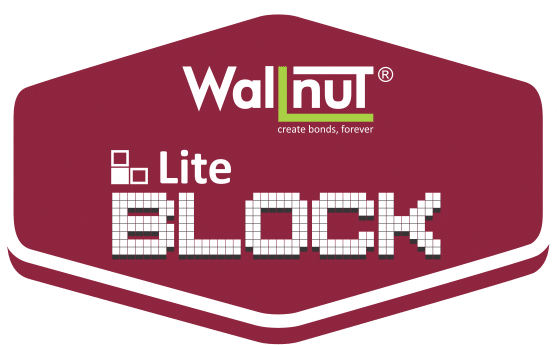 In Compliance with: European Norms
Grey adhesive for fixing of AAC Block,
Concrete Block and Fly-ash bricks etc.
Wallnut Lite Block is an Eco friendly, lightweight, polymer-modified, mineral-based ready to use adhesive for fixing of all kind of AAC (Autoclaved Aerated Concrete) blocks, concrete blocks, and other absorbent bricks.
Wallnut Lite Block adhesive is designed for doing work with speed and ease. Lite Block adhesive must be mixed with water in order to obtain smooth working paste to apply on the surface of block or bricks in the thickness of minimum 2 mm. & maximum 6mm.
Wallnut Lite Block main Advantages
Guaranteed fixing of AAC blocks, concrete blocks & all other absorbent bricks used in building.
Also suitable to apply on all cement based surface such as plaster, floor screed.
Suitable for Internal & External areas.
No water curing required.
High spread & easy workability
Very high coverages.
No need to mix any extra cement.
Good strength once blocks are fixed and adhesive is fully dry
Economic as an adhesive and best among its class in Industry.
Technical Performances & Working Data
In compliance with EN norms 12004
Tensile adhesion (porous surface):  1.0 N / mm2:  As per EN 1348
Tensile Adhesion after heat cycle: 0.55 N / mm2: As per EN 1348
Tensile Adhesion after water immersion: 0.66 N / mm2: As per EN 1348
Tensile Adhesion after Freeze-thaw cycle: 0.52 N / mm2: As per EN 1348
(Final results @ 28 days. 23° C. & 50% humidity)
In compliance with IS 15477-2019: for Type 1 Adhesive
Tensile Adhesion (Dry condition) : ≥ 1.0 N/mm2

Sheer Adhesion (Dry Condition) : ≥ 1.2 N/mm2
(Final results @ 28 days. 27° C. & 65% humidity)