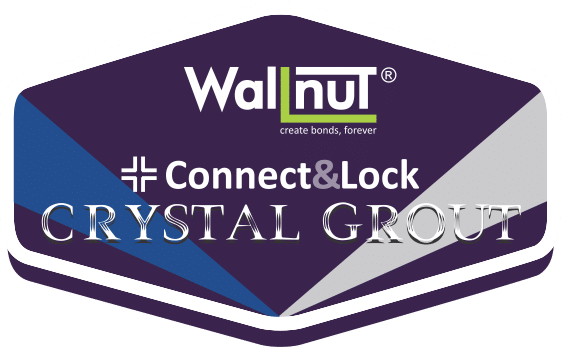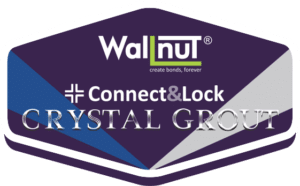 In Compliance With:
European Norms – EN - RG (Reactive Grout)
Transparent epoxy grout for fixing and joint filling of multi-color ceramic & glass mosaic. Also, joint filling for low thickness slab & other tiles & stone.

Advantage of Connect & Lock Crystal Grout
Crystal clear technology to pass maximum color & light.

High-quality glass crystal provides a smooth & glossy surface.

Monolithic color surface across multicolor tiles or stone joints.

No stain on grout joints.

High chemical & stain resistant.

Hygiene, antibacterial & does not allow fungal growth by itself.

Almost waterproof by its nature.

Very high compressive strength.

Smooth and shiny flush joints between ceramic tiles and glass mosaics.

Easy to mix, apply, and water cleanable at the site.

Durable and long-lasting.

Sag resistant in nature and does not sag from the joint up to 10 mm.

Low VOC and at par with international norms.

Best to use as an adhesive & grout for ceramic & glass mosaic.

Post application no acid or special cleaner requires to clean the grout surface.
Suitable Areas
Restaurants, Discotheque, Bar, Jewelry & Fashion showrooms.

Areas where joint must shine using Wallnut Jewels.

Commercial and industrial floors.

Grouting of small & narrow joints in tile & stone.

All kinds of small & public swimming pools including saunas & spas.

Public restaurants & cafeterias.

Pubs & Bars

Residential & Commercial use  
Suitable materials for grouting:
All types & sizes of ceramic & glass mosaics tiles.
All types & sizes of natural and engineered stones with narrow joints.
Large-format tiles of all types including low thickness slabs with narrow joints.
Suitable materials to use as an adhesive:
Ceramic, Glass & metal mosaics.
First, check that tiles or stone are fixed properly and are not sounding hollow. In case sounding hollow, the first repair or replace the area.
Ensure that joints are clean and free from all foreign material such as oil, grease, dust, etc. In case the dust or cement particles are stuck inside the joint, use a vacuum cleaner or blower to remove the same. The Grout remover tool also can be used in case old grout to be removed.
In case working in an external area under the sun, avoid applying grout on a hot surface and in joint. First, let cool the surface of tiles or stone and don't work under direct sun. A hot surface may compromise the final performance of grout.
In case the surface of tiles or stone are absorbent, then before starting the application, first apply the grout in a small test patch area. In case discoloration of the surface, consult Wallnut technical representative, and stop the application.
In case tiles or stone are rustic in nature and having uneven surfaces, it is possible that grout residue may remain on the surface and difficult to fully clean. In this case, better not to apply grout on the entire surface area. Also, if needed, edges of tiles or stone can be masked by applying suitable masking tape and can be removed post-cleaning of grouts
Mixing: (Part A - Hardener : Part B -Resin Paste : Ratio: (1: 14) (200 gram. : 2800 gram.)
Open Connect & Lock Crystal mono pack. Mix the full quantity of part A hardener into Part B thick paste. Use slow speed electric stirrer until it becomes a homogeneous paste. Manual mixing can compromise the performance of grout.
In case part quantity of grout to be mixed, it is advisable to use strictly the correct ratio of Part A: Part B (1:14). For taking the correct ratio, a measurement jar can be used. (In case Part A & B mixing ratio are not correct, the final result may vary and grout performance can be compromised.)
Use the mixed material within pot life period.
How to apply as grout & cleaning:
Before applying the grout on the overall surface of tiles or stone, test the small area for any discoloration due to absorbency in tiles or stone surface.
In case tiles or stone surface is rough or uneven, it is advisable to apply the grout only in the joints and not on the entire surface of the tiles or stone to avoid cleaning issue. (A good masking tape also can be used if needed on the edges.)
Spread the grout evenly on the surface of tiles or stone to cover the area.
Once the grout is spread, fill the joint completely using rubber grout float. Keep the rubber float diagonally to the joint and apply a 45-degree angle to have a perfect filling.
Once all the joints are filled properly, remove excess grout if any from the surface of tiles or stone.
To achieve flush joint, leave the grout approx. 15 to 30 minutes (Depends on temperature) in the joints. (Immediate cleaning of grout is possible, but it may lead to un-even grout surface finish).
Start cleaning the grout with clean water and medium density sponge in a circular motion all over the joints. Finish the joint smoothly and evenly. (Change the water twice or more to have proper cleaning of the surface.) The sponge cleaning will ensure the grout leaves a smooth and glossy finish at the joints.
There may be a white haze that appeared on the grout joints at the time of application. This is not discoloration and the haze will disappear shortly after cleaning.
Leave the grout for 24 hrs. to dry and fully set. Protect the area for any possible stain on fresh grout due to movement.
After 24 hrs. the tile surface can be cleaned with soap water to remove any haze remained at the top.
How to apply as an adhesive:
After the mixing use, a 3 mm notched trowel and apply only to the recommended surfaces. Fix the tile immediately or before 10 minutes after application.
A scratch coat/ bond coat on the back of the tile recommended for better adhesion.
Grouting can be done after 8-24 hrs. Of adhesive application
Technical Performance datasheet
In compliance with : EN -RG (Reactive grouts)
Compressive strength : 54 MPa : As per EN 13888
Abrasion resistance : 162 mm3 : as per EN 12808-2
Water absorption after 240 min. : 0.03g : EN 12808-5
Resistance to fungal contamination : High
Resistance to bacterial contamination : High
Porcelain tiles/concrete tensile strength ≥ : 3 MPa : EN 1348
Working temperature : from -40 °C to +110 °C
(Final results @ 28 days. 23* C. & 50% humidity)
• Final resistance to temperature after 7 days or full cure:  - 30 to + 80 * C.     
• The final results may vary based on temperature and humidity.