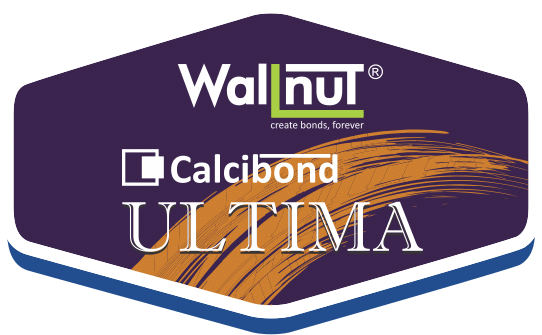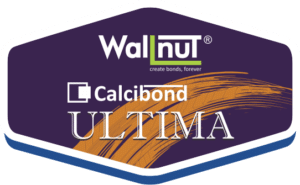 In Compliance With: EN norms – EN R2T & ISO 13007
Fixing of all kind of large format tiles,
natural recomposed stone on high rise façade, on metal, wood, rubber & drywall surfaces.
Calcibond Ultima (Drywall adhesive) is a unique Eco-friendly, very high flexible & elongation of 30 mm., two-part POLYURETHANE ADHESIVE based on high quality minerals and ready to use drywall adhesive for doing work on flexible surfaces, external facade, areas under heavy vibration, heavy-duty Industrial floor, metal & wood surfaces including all kind of dry- wallboards to fix all kind of large format & slim tiles slabs, natural stone and re-composed stone material. Suitable for internal & external area.
Advantage of Calcibond Ultimate or Drywall Adhesive over other flexible adhesive
Super flexible polyurethane-based system for superior performance with high aging.
Best for flexible surfaces and areas under continuous movement such as high-rise facade under wind & temperature pressure, public infrastructure, etc.
To act as a waterproofing cum adhesive to fix tiles & stone in wet areas.
Fully thixotropic to install all kinds of tiles & stone without sagging.
Economical single-pack easy to use the two-component system.
Chemical and highly water-resistant.
Highly flexible and exceeds the EN 12004- S2 norms requirement.
Deformability of >10 mm., hence can be used on most flexible surfaces.
Freeze-thaw and thermal shock resistant.
The supreme bond between plywood systems including heavy-duty marine-grade plywood.
Guaranteed performance to fix large format tiles & stone, slim slab, stone slab which is sensitive to moisture, and re-engineered stone based on resin system.
A long-life assurance on performance.
Extreme white color for very lite color natural stone including Australian white and other transparent material.
Best performance even at a low thickness of 1.5 mm. Can be used up to 6 mm, or more
Suitable Areas:
Internal & External floor & wall including high rise façade.
Residential & commercial buildings areas such as kitchen & bathroom counter tops, window seal, metal staircase, etc.
Industrial buildings and chemical resistance areas such as laboratory, Industrial kitchen, staircase, etc.
Public infrastructures such as railways, airports, stadiums, bridges, etc.

Large size swimming pools, Jacuzzi & saunas for public uses.
Stable structure of the metal, marine-grade plywood, Vinyl PVC & rubber surfaces.
Existing surfaces of Epoxies & PU coating.
All kinds of drywall boards made with cement-based, wood particle, gypsum, calcium silicate, etc.
Fully dry and sound new or old traditional plaster.
Existing tiles or stone surfaces.
New or old absorbent IPS or PCC floors that are sound and stable.
Screed made with Wallnut Zeorich Base, Zeorich Base Rapid, or similar kind.
Fully cured Stable concrete of all type including precast concrete
Surfaces are made with AAC (Autoclaved Aerated Concrete) panel,
Suitable covering material:
All kinds of ceramic & vitrified tiles of all sizes including tiles made in metal and wood.
All kind of natural stone which are sensitive to moisture, stone veneer, slate stone, laminated stone, Corian solid surface, Onyx stone & agglomerated re-engineered resin-based quartz stone.
Large size slab of tiles & stone bonded with fiberglass mesh on back surface.
All types & sizes of ceramic & glass mosaic. Slim Tiles slab in 3 mm. thicknesses or cut stone with minimal thickness.
Ensure that surface is sound, clean and free from all foreign material such as oil, grease, dust etc.
If the surface is uneven of more than 15 mm. than first do the leveling by using correct leveling material in order to avoid using the excess thickness of adhesive.
Do not pre-wet the surface with water.
If the surface area is larger, provide movement joint every 3 meters or as per local standard.
In case working on external façade, avoid direct sun exposure to the surface and to finishing material. Let cool the surface before starting the application. A hot surface may compromise the final performance.
Follow the concrete expansion joint and connection joint as per standard.
Mixing: (Part A - Hardener : Part B -Resin Paste : Ratio: (1: 10) (3.63 Kg. : 0.36 Kg.)
Open Calcibond Ultima (drywall adhesive) mono pack. Mix the full quantity of part A hardener into Part B thick paste. Use slow speed electric stirrer until it becomes a homogeneous paste. Manual mixing can compromise the performance of adhesive.
In case part quantity of drywall adhesive to be mixed, it is advisable to use strictly the correct ratio of Part A: Part B (1:10). For taking the correct ratio, a measurement jar can be used. (In case Part A & B mixing ratio are not correct, the final result may vary and adhesive performance can be compromised.)
Use the mixed material within the pot life period
Spread the drywall adhesive in desire thickness onto the surface using Wallnut notch trowel.
Once the dry wall adhesive is applied, fix the tiles or stone onto adhesive before skin formation and press firmly. In case tiles or stone are of big size, also apply the adhesive layer at the backside.
In case using as a spot bonding, ensure that a minimum of 25 percent of tiles or stone surface is covered with adhesive.
Leave the space between tiles or stone to have proper grouting and to accommodate surface movement.
Leave the tiles or stone for 24 hours to bond well and follow the grouting with Wallnut Connect & Lock Epoxy Grout.
Technical Performance and working data
In compliance with EN 12004: EN R 2T (Standard for reactive adhesive)
Initial shear adhesion strength : > 4.5 N / mm2 : As per EN 12003
Shear adhesion after water immersion : > 4.0 N / mm2 : As per EN 12003
Tensile adhesion after 7 days on concrete : ≥ 3 N / mm2 : As per EN 1346
Tensile adhesion strength after freeze / thaw cycle : ≥ 2.75 N / mm2 : As per EN 1346
Elongation after full strength : > 30 % Vertical slip : < 0.5 mm. : As per EN1308
Transverse deformation : S2 ≥ 10 mm. (
Final results @ 28 days. 23° C. & 50% humidity)

In compliance with IS 15477 Type 5 Adhesive

Shear adhesion strength dry condition : ≥ 6.2 N / mm2
Shear adhesion strength heat ageing : ≥ 4.2 N / mm2
Tensile adhesion strength dry condition : ≥ 3.15 N / mm2
(Final results @ 28 days. 27° C. & 65% humidity)