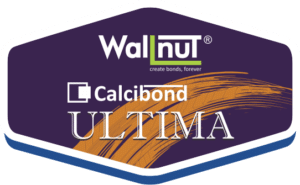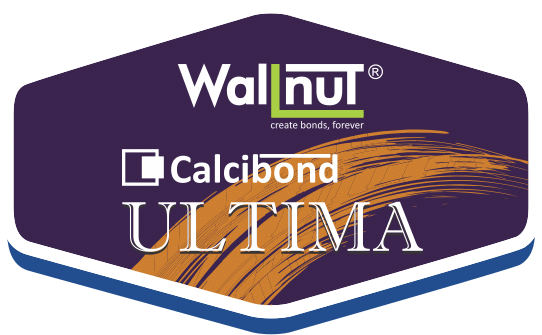 In Compliance With: EN norms – EN R2T & ISO 13007
Fixing of all kind of large format tiles,
natural recomposed stone on high rise façade, on metal, wood, rubber & drywall surfaces.
Calcibond Ultima is a unique Eco-friendly, very high flexible & elongation of 30 mm., two-part POLYURETHANE ADHESIVE based on high quality minerals and ready to use adhesive for doing work on flexible surfaces, external facade, areas under heavy vibration, heavy-duty Industrial floor, metal & wood surfaces including all kind of dry- wallboards to fix all kind of large format & slim tiles slabs, natural stone and re-composed stone material. Suitable for internal & external area.
Super flexible polyurethane based system for superior performance with high ageing.
 Best for flexible surfaces and areas under continuous movement such as high rise façade under wind & temperature pressure, public infrastructure etc.
To act as a waterproofing cum adhesive to fix tiles & stone in wet areas.
Fully thixotropic to install all kind of tiles & stone without sagging.
Economical single-pack easy to use two-component system.
Chemical and highly water resistant.
Elongation of more than 30 mm. when fully cured, hence can be used on most flexible surfaces.
Freeze-thaw and thermal shock resistant.
Superior bonding between plywood systems including heavy duty marine grade plywood.
Guaranteed performance to fix large format tiles & stone, slim tile slab, stone slab which are sensitive to moisture, and re- engineered stone based on resin system.
Long life assurance on performance.
Extreme white colour for very lite colour natural stone including Australian white and other transparent material.
Best performance even at low thickness of 1.5 mm. Can be used upto 6 mm, or more
Technical Performance and working data
In compliance with EN 12004: EN R 2T (Standard for reactive adhesive)
Initial shear adhesion strength : > 4.5 N / mm2 : As per EN 12003
Shear adhesion after water immersion : > 4.0 N / mm2 : As per EN 12003
Tensile adhesion after 7 days on concrete : ≥ 3 N / mm2 : As per EN 1346
Tensile adhesion strength after freeze / thaw cycle : ≥ 2.75 N / mm2 : As per EN 1346
Elongation after full strength : > 30 % Vertical slip : < 0.5 mm. : As per EN1308
Transverse deformation : S2 ≥ 10 mm. (
Final results @ 28 days. 23° C. & 50% humidity)

In compliance with IS 15477 Type 5 Adhesive

Shear adhesion strength dry condition : ≥ 6.2 N / mm2
Shear adhesion strength heat ageing : ≥ 4.2 N / mm2
Tensile adhesion strength dry condition : ≥ 3.15 N / mm2
(Final results @ 28 days. 27° C. & 65% humidity)