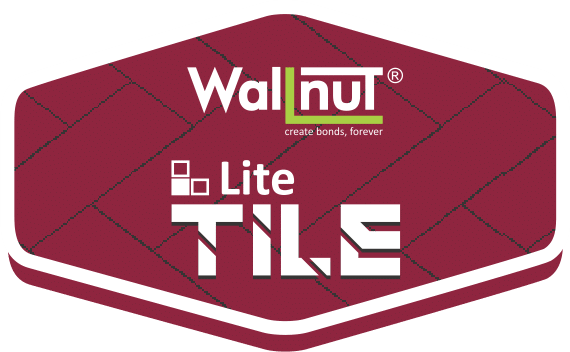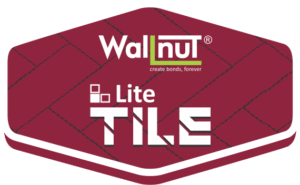 In Compliance with: IS norms
Polymer Adhesive for fixing absorbent ceramic tiles in interior on floor & wall.
Wallnut Lite Tile is an Eco friendly, lightweight, polymer-modified, mineral-based, ready to use polymer adhesive for doing lite work of fixing absorbent ceramic tiles in internal area for renovation as well as fresh work. For interior use only.
Advantage of Wallnut Lite Tile Polymer Adhesive over cement or normal adhesive
Guaranteed fixing of absorbent ceramic & glazed tiles on the floor & wall in the internal area.
Exceed strength of class one adhesive as per IS norms.
Very good coverage among class one adhesive available across the industry.
Suitable for renovation work.
No water curing required.
Saving of time & labor.
Easy workability.
No need to mix any extra cement.
No need to soak absorbent tiles into the water prior to fixing.
Very low VOC and suitable for green building.
Suitable areas
Internal walls & floor.
Residential houses & buildings.

Fully dry and sound new or old traditional plaster
New or old absorbent IPS or PCC floors which are sound and stable
Suitable covering material:
Absorbent ceramic tiles. 
Glazed tiles.
Ensure that the plaster/screed surface is sound, clean, and free from all foreign material such as oil, grease, dust, etc. 
If surface is uneven of more than 10 mm. then first do the leveling by using correct leveling material in order to avoid using the excess thickness of polymer adhesive or apply a first thin coat of the same adhesive to level the surface and wait for 24 hours.
Onto dry clean surface, splash enough water, and let it surface dry to improve the workability of polymer adhesive.
If the surface area is larger, provide movement joint every 3 meters.
Follow the concrete expansion joint and connection joint as per standard.
 Mix Wallnut Lite Tile polymer adhesive 20 kg. Bag of powder with approx. 5 lt. of clean water. Use slow speed electric stirrer to have desirable results. Manual mixing can compromise the performance of adhesive.
Adjust the water quantity as per ambient temperature & surface. The final mix must be a workable paste.
 Spread the polymer adhesive in desire thickness from 3 to 6 mm. onto cement surface using proper notch trowel. 
Once lite tile polymer adhesive is applied, fix the tiles or stone onto adhesive before skin formation and press firmly. In case tiles or stone are of big size, also apply the adhesive layer at the back of the tiles. 
Leave the space between tiles to have proper grouting and to accommodate surface movement.
Leave the tiles for 24 hours to bond well and then follow the grouting process.
Technical Performances & Working Data:
In compliance with IS 15477-2019: for Type 1 Tile Adhesive

Tensile Adhesion (Dry condition) : ≥ 0.75 N/mm2
Sheer Adhesion (Dry Condition) : ≥ 1.12 N/mm2

(Final results @ 28 days. 27° C. & 65% humidity)