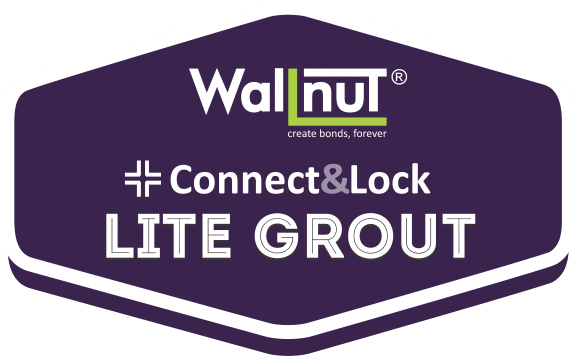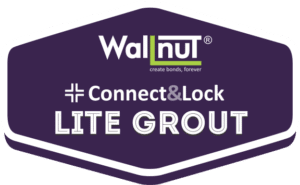 In Compliance With: EN norms – CG
Polymer grout for filling of joints in tiles, stone & mosaic up to 3mm.
Wallnut Lite polymer grout is a single component, eco-friendly, polymer-modified, water & abrasion resistance very fine grout based on high-quality mineral for filling the joints of tiles & stone up to 3mm. Suitable for internal & external areas
Advantage of Lite Grout or Polymer Grout  over other cement-based grouts
First extra-fine grout (< 50 microns) with high quality of calcium carbonates inside. • Guaranteed for quick filling of joint up to 3 mm. on the floor & on the wall.
Suitable for filling joints in all kinds of ceramic & vitrified tiles, all kinds of stone & mosaic.
Best of workability, cleaning, and smooth glossy finish.
Very high quality of Iron Oxide and color stability.
High compressive, abrasion & water resistance.
Best for lite uses and for renovation work.
No water curing requires.
Polymer grout is suitable for external & internal.
High coverages with best of performance even in very fine joints.
Economic & best value using tile grout.
Very low VOC and suitable for green building credit points.
Suitable areas
Internal & external wall & floor.
Residential & commercial buildings.
Public infrastructure projects.
Suitable materials for grouting:
All types & sizes of ceramic & vitrified tiles.
All types & sizes of ceramic & glass mosaic.
All kinds of natural and recomposed stone.
Large-format tiles of all types including a vitrified thin slab of less than 5mm. thickness
First, check that tiles or stone are fixed properly and are not sounding hollow. In case sounding hollow, the first repair or replace the area.
Ensure that joints are clean and free from all foreign material such as oil, grease, dust, etc. In case the dust or cement particles are stuck inside the joint, use a vacuum cleaner or blower to remove the same. The Grout remover tool also can be used in case old grout to be removed.
In case working on an external façade or on floor joints, avoid applying polymer grout on hot surfaces. First, let cool the surface of tiles or stone and don't work under direct sun. The hot surface may compromise final performance grout
In case of high absorbent tiles or stone surfaces, before starting the application, first, apply the grout color in a small test patch area. In case discoloration of the surface occurs, then consult Wallnut technical representative and stop the application.
In case tiles or stone are rustic in nature and having uneven surfaces, it is possible that grout residual will remain on the surface while final cleaning. It is better to avoid applying grout on the entire surface area. In this case, edges of tiles or stone can be masked by applying suitable masking tape and can be removed post-cleaning of grouts.
Mix Lite Grout (polymer grout) 1 kg. with approx. 400 Ml. of clean water. Use slow speed electric stirrer for mixing to have desirable results. Manual mixing can compromise the performance of grout and color can be uneven on the final surface. 
Adjust the water quantity as per ambient temperature and dryness of the surface and joints. The final mix must be workable paste
Spread the grout evenly on the surface of tiles or stone to cover the area.
Once the polymer grout is spread, fill the joint tightly using rubber grout float. Keep the rubber float diagonally to the joint and apply a 45-degree angle to have a perfect filling.
Once all the joints are filled properly, remove excess grout if any from the surface of tiles or stone.
Leave the grout for surface touch dry. Once the top surface of grout becomes semi-dry, apply all over the surface cleaning sponge using very little water. Use the water only enough to wet the surface area. Apply the sponge in a circular motion all over the joints. Finish the joint smoothly and evenly. (In case excess water is used, it is possible that pigments from the top surface are washed away and the final color of grout may be affected).
Technical Performance and working data
n compliance with EN 13888 : EN CG standard for class 1 & class 2 polymer modified grouts
Compressive strength : ≥ 25 N / mm2 : As per EN 12808-3
Flexural strength : ≥ 3.5 N / mm2 : As per EN 12808-3
Abrasion resistance : ≤ 2000 mm3 : As per EN 12808-2
(Final results @ 28 days. 23* C. & 50% humidity)
 Final resistance to temperature after 28 days or full cure:  - 30 to + 80 * C.     
The final results may vary based on temperature and humidity.